The Hamburger Farm
April 25th - May 18th, 2018
Tuesdays - Fridays

Hamburger Tour
Cost: $12.50 per person*
*Prices subject to change
Bake Shop and Gift Shop
Open to General Public from
9:00 a.m. -1:00 p.m.
Did you know...
Everything in your favorite hamburger comes from the farm!
This special educational program provides a guided tour of a farm that grows all the crops needed for a hamburger. Even the farm is shaped like a hamburger!
Hands on activities include:
grinding wheat into flour
digging potatoes and slicing them into French fries
milking a "cow" to get milk for cheese
Reservations for your class field trip are a must and may be scheduled anytime.
Tours can normally be scheduled to start between 9:15 a.m. and 11:15 a.m.
Scheduled activities last about 2½ hours.
Click here to submit your request now online!
About the Tour
We will provide you with the perfect spring field trip, combining equal parts of learning and fun.
The Bishop's have hosted hundreds of thousands of preschoolers through fourth graders at the pumpkin farm since the fall of 1973. Spring field trips to The Hamburger Farm have drawn rave reviews from educators since its first season in 2001.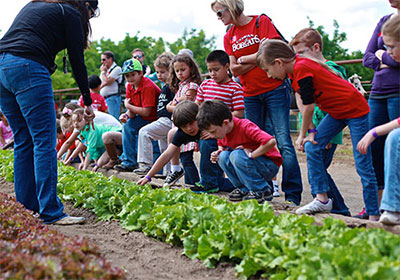 Your trip to the farm will include the following:
Ride on the Bishop's Pumpkin Farm Railroad to and from the Hamburger Farm site
Guided tour of a farm that grows all crops needed for a hamburger including-

hands on activities such as grinding wheat into flour
digging potatoes and slicing them into French fries
milking a "cow" to get milk for cheese.
In addition to information on each crop, discussion topics will include: "good" and "bad" insects, the busy life of bees, the scoop on composting, and amounts of water needed to "grow" a hamburger.

A self-guided tour of Weeland Petting Zoo is available for your class. Be aware that each group must assemble for a safety video upon entry to Weeland. A maximum of 50 people can be admitted every 3 minutes, so there could be a short wait to enter.
Play time in Farmer Bill's Barn, the Tree House, or Coyote Mountain Mine
Nutritious hamburger picnic (meets school lunch requirements)
*Cost: $12.50 per person for all members of your group.
One teacher and one other adult per scheduled class and siblings under two are free.
Payment must be made upon check-in in the form of a check or school purchase order.
Minimum group size is fifteen.
Make a Reservation
Teachers, you will need to do the following:
1. Make a reservation online or call (530) 633-2568.
Don't wait too long as space will be limited.
2. Collect $12.50 for each student, parent, or sibling who will be on the trip.*
3. Have check or purchase order ready and be sure to check in at your reserved time
(please ask us about travel times when you make your reservation)
Teachers: Please Click Here for Important Information You Should Read.
*Prices subject to change