Fall Field Trips to The Pumpkin Farm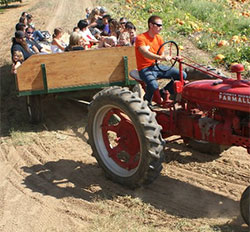 September 27th through November 3rd, 2017
Monday through Friday Only
Fall Booking Special: Book on September 27th, 28th or 29th to receive a free carousel ride!!
Our Fall School Field Trips now have two exciting options to choose from:
Option #1
Cost is $ 8.00 per Child*
Parents are $8.00 per Person*
*Prices subject to change
A farm adventure they won't forget, including:

A Hay Ride
A Pumpkin
Our Educational Pig Show
The Petting Zoo
A Train Ride
A cup of our fresh Apple Cider

Access to the following play areas:

Farmer Bill's Barn
Tree House
Tire Climb
Hay Jump
Fort A lot of Fun
A self-guided tour of Weeland Petting Zoo is available for your class. Be aware that each group must assemble for a safety video upon entry to Weeland. A maximum of 50 people can be admitted every 3 minutes, so there could be a short wait to enter.
Option #2
Cost is $10.00 per Child*
Parents are $8.00 per Person*
*Prices subject to change
Includes all areas in Option #1 above and one ride on the Bishop's Pumpkin Farm Carousel.
Make a Reservation
Reservations Are Required.
Make reservations online, or call (530) 633-2568
Don't wait too long as space will be limited.
Tour Pricing
Everyone who attends the trip must pay.
The cost shown above is for each student, sibling (2 years and older) and parents who will be attending the trip.
One teacher and one aid are free per class scheduled. Minimum group size is 15.
If your group arrives with less than 15 per schedule time slot, you will be expected to pay for 15 visitors.
Educational Packets
We have put several packets together in hopes to add more educational value to our field trips.
Feel free to use it before, after or during your trip.
Click here to view the packeted materials.
From our humble beginnings in 1973, it has been our desire to provide a learning experience for the children visiting the farm.
We believe that we have designed a fall field trip that is a memorable learning experience for preschool through fourth grade children.
Looking for a spring field trip?
Check out "The Hamburger Farm."
Checking In to Your Tour
Look for the little red building near our new entrance for school check-in.

Teachers: Please Click Here for Important Information You Should Read.