Click here to find out more!
Welcome to
Bishop's Pumpkin Farm!
Open September 20-November 2, 2014
September
Open Daily, 9 a.m. to 6 p.m.

October 1st-30th
Sunday-Thursday, 9 a.m. to 7 p.m. 
Friday & Saturday, 9 a.m. to 8 p.m. 

October 31st-November 2nd
9 a.m. to 6 p.m.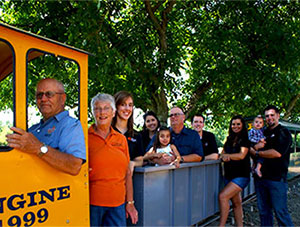 The Bishop Family Invites You to
Come Harvest Memories with Us!
Read our 2014 Vine Line Newsletter for helpful information, coupons, and the farm map.

Accolades for Bishop's
Pumpkin Farm:
"2013 Champions of Yuba County"
– Yuba County Board of Supervisors
"2012 Business of the Year"
– Yuba-Sutter Chamber of Commerce
"2005 Farm Market of The Year"
– North American Farmers Direct
Marketing Association