Click here to find out more!
Welcome to
Bishop's Pumpkin Farm!
Now open until November 5th!
In October:
Sundays - Thursdays 9:00 am - 7:00 pm
Fridays and Saturdays 9:00 am - 8:00 pm
Halloween Day through November 5th 9:00 am - 5:00 pm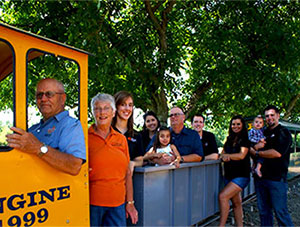 The Bishop Family Invites You to
Come Harvest Memories with Us!
Read our 2016 Vine Line Newsletter for helpful information.

Accolades for Bishop's
Pumpkin Farm:
"2013 Champions of Yuba County"
– Yuba County Board of Supervisors
"2012 Business of the Year"
– Yuba-Sutter Chamber of Commerce
"2005 Farm Market of The Year"
– North American Farmers Direct
Marketing Association
Pet Policy:
For the safety of both your pet and other
customers, we kindly ask that all pets
are kept at home.