Click here to find out more!
Welcome to
Bishop's Pumpkin Farm!
Wheatland High School's 4th Annual Grog N' Grub
May 16th, 2015 from 2:00 pm - 7:00 pm
Come spend an afternoon at the farm for Wheatland High Booster's Club 4th Annual Grog N' Grub. There will be a BBQ competition, beer and wine tasting and live music.
Tickets on sale now!
Buy Tickets Online
We will be Re-Opening on September 19th-November 1, 2015


Come see us in the Spring!

Starting April 29th - May 20th, 2015

The bakery and gift shop will be open Tuesdays-Fridays from 9:00am - 2:00pm
 
Enjoy our special spring Bakery menu including Chocolate Chip Scones, Strawberry Surprise Pie, Bumbleberry Pie and much more!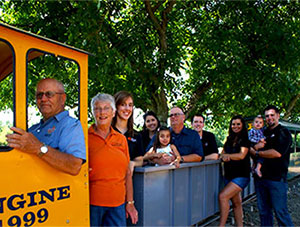 The Bishop Family Invites You to
Come Harvest Memories with Us!
Read our 2014 Vine Line Newsletter for helpful information, coupons, and the farm map.

Accolades for Bishop's
Pumpkin Farm:
"2013 Champions of Yuba County"
– Yuba County Board of Supervisors
"2012 Business of the Year"
– Yuba-Sutter Chamber of Commerce
"2005 Farm Market of The Year"
– North American Farmers Direct
Marketing Association